Top Donors to New Democratic Leadership Include Israel, Pharma Lobbies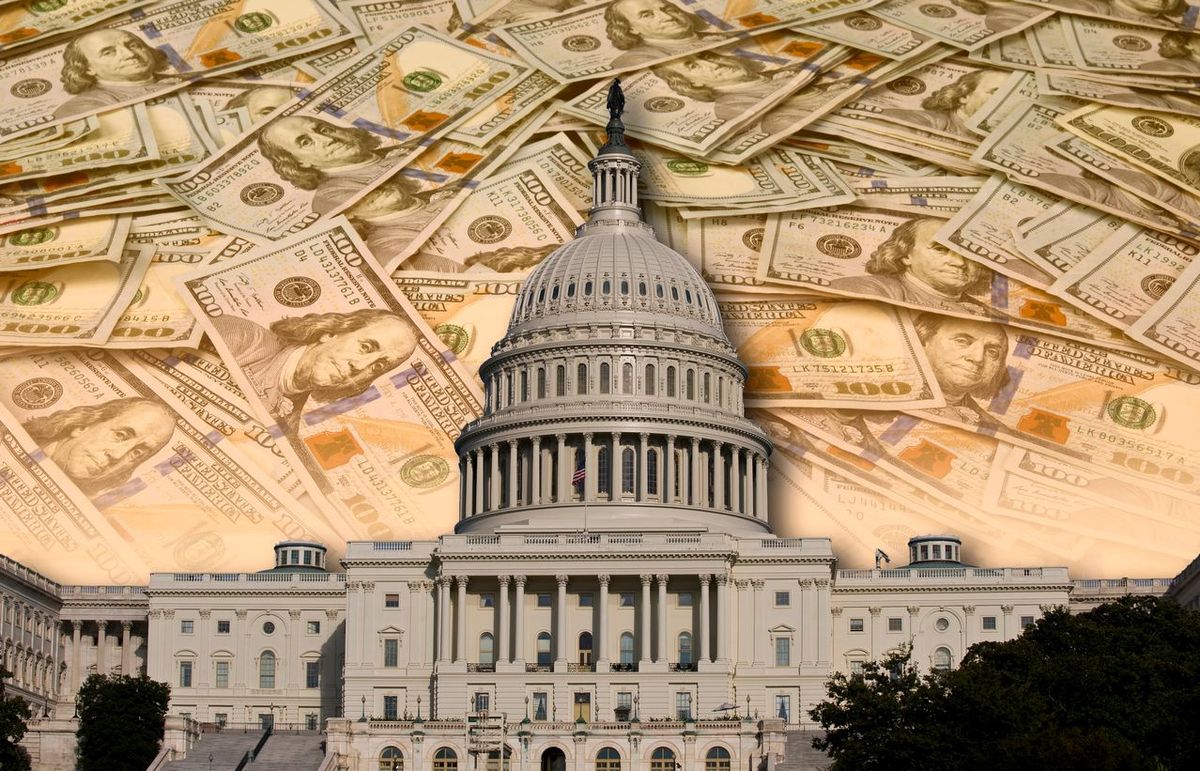 "For me, the hour has come for a new generation to lead the Democratic caucus that I so deeply respect,"
Speaker of the House Nancy Pelosi (CA) said in her announcement last month that she would not seek reelection to lead House Democrats. Rep. Steny Hoyer (MD), the Democratic majority leader, and Rep. James Clyburn (SC), the Democratic whip, revealed they, too, will step down from Democratic leadership in the 2023-2024 term.
House Democrats unanimously elected Rep. Hakeem Jeffries of New York to succeed Nancy Pelosi as their new House leader. Rep. Katherine Clark, of Massachusetts, was elected to serve as whip and Californian Rep. Pete Aguilar was elected to caucus chair. The three new House leaders collectively lowered the average of the top three Democrats by more than 30 years.
The real test for the new leadership, however, will be if they can match Speaker Pelosi's record fundraising while also avoiding the appearance of bias and corruption that comes with courting wealthy donors and corporations. Pelosi raised $1.6 billion during her 20 years in leadership, including $4.4 million from a single fundraiser in early 2022.
The industries that lawmakers accept money from can hint at their disposition toward specific pieces of legislation. The two Democrats that received the most money from the oil and gas industry, for example, also have the worst environmental voting record according to the nonprofit League of Conservation Voters (LCV). Sen. Joe Manchin (D-WV) took over $735,000 from oil and gas companies in 2022; his lifetime LCV score is just 56%. Rep. Henry Cuellar (D-TX) accepted nearly $300,000 from oil and gas companies and has a lifetime LCV score of 50%.
Lawmakers in leadership positions have an outsized influence on what legislation even receives a vote in Congress, giving them power to potentially advance bills friendly to donors and sideline bills their donors oppose.
Hakeem Jeffries
Rep. Jeffries is set apart from the other candidates for Democratic leadership by his acceptance of donations from pro-Israel groups. Since 2016, Jeffries has received over $400,000 from three of the largest pro-Israel lobbying PACs in the nation, including the most influential, the American Israel Public Affairs Committee (AIPAC). The majority of the contributions were made in the 2022 election cycle, making Jeffries the fourth largest House recipient of pro-Israel money going into the 118th Congress.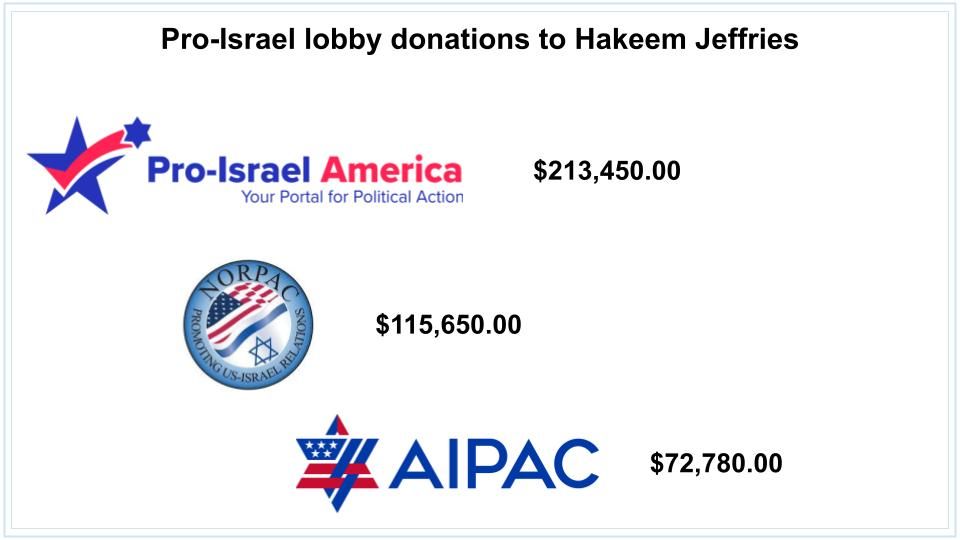 AIPAC
AIPAC is the most well-known and wealthiest groups in the pro-Israel lobby today, responsible for donating nearly $9 million to candidates, committees, and PACs in the 2022 election cycle. While the majority of its donations in 2022 were directed to Democrats (66%), AIPAC also endorsed 37 Republican members of Congress who voted against certifying Joe Biden's 2020 election win. In defending its decision, AIPAC said it places support for Israel over all other considerations.
In the face of the growing criticism, AIPAC's leaders last week sent a letter to the group's members defending the endorsements. "This is no moment for the pro-Israel movement to become selective about its friends," said the letter, obtained by the Jewish Insider.

"The one thing that guarantees Israel's ability to defend itself is the enduring support of the United States. When we launched our political action committee last year, we decided that we would base decisions about political contributions on only one thing: whether a political candidate supports the US-Israel relationship."
Another aspect of AIPAC's policy that became apparent during the 2022 election cycle was its massive spending to defeat Democratic candidates critical of Israel's alleged human rights abuses. Using its newly founded SuperPAC, the United Democracy Project (UDP), AIPAC dedicated $6 million to ads attacking Maryland Democratic candidate Donna Edwards, who did not support resolutions backing Israel in its war in Gaza. Edwards ultimately lost the Democratic primary to Glenn Ivey, who went on to win the general election.
Pro-Israel America PAC
The Pro-Israel America PAC was founded in 2019 by two former AIPAC executives to boost grassroots financial support for pro-Israel candidates. According to a strategy document obtained by HuffPost, the group hopes to counter the growing faction on the left that "do[es] not value the U.S.-Israel relationship."
"Pro-Israel giving isn't just for major donors and grass tops," the document's authors argue. "The majority of Americans support a close relationship with Israel, but most of them do not currently have easy access to opportunities for sustained pro-Israel political giving." Pro-Israel America, the organizers promise, will "complement existing efforts" and open up pro-Israel politics to "tens of thousands of pro-Israel Americans," increasing pro-Israel political giving by "millions of dollars."
Like AIPAC, the Pro-Israel America PAC spent money in the 2022 election cycle boosting the primary opponents of Democrats who are critical of the Israeli state. For example, the group funneled nearly $400,000 into the campaign of Antone Melton-Meaux in the hopes of unseating incumbent Rep. Ilhan Omar (D-MN). Melton-Meaux ultimately lost the August primary by 29 points.
NORPAC
NORPAC describes itself as a non-partisan organization dedicated to supporting candidates and lawmakers "who demonstrate a genuine commitment to the strength, security, and survival of Israel." It does this through monetary donations as well as directly lobbying Congress in support of or opposition to specific pieces of legislation.
During NORPAC's most recent mission to Washington, conducted virtually, 500 activists met with ⅔ of the Senate, speaking in favor of continued U.S. monetary support for Israel and attempting to persuade lawmakers to block funding for the U.N.'s Commission of Inquiry investigating Israel.
Privately funded travel
Rep. Jeffries has traveled to Israel on two separate occasions since 2019, funded by the American Israel Education Foundation (AIEF)—a group affiliated with AIPAC. The most recent of these trips took place February 19-23, 2022 and cost nearly $14,000 according to a House Committee on Ethics disclosure form. Jeffries' first trip to Israel, in 2019, cost AIEF roughly $12,000. Both trips included a meeting with Israeli Prime Minister Benjamin Netanyahu.
Katherine Clark
Rep. Katherine Clark has accepted more donations from pharmaceutical companies than the other candidates for Democratic leadership, including from some of the most profitable companies in the world. Yet, her total pharmaceutical donations across four election cycles still put her below three House members for 2022 alone. Rep. Cathy McMorris Rodgers (R-WA) accepted over $389,000 in pharmaceutical industry donations in 2021-2022. Rep. Scott Peters (D-CA) accepted $374,000 and Rep. Brett Guthrie (R-KY) accepted $319,000.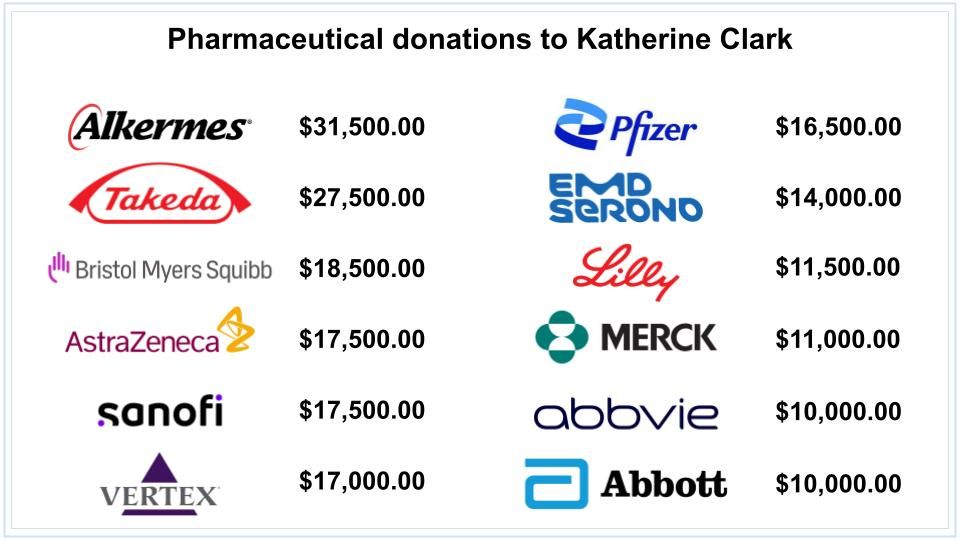 Over the past four election cycles, Rep. Clark's top pharmaceutical donor has been Alkermes, a drug manufacturer based out of Ireland. Alkermes focuses on producing drug products for three main categories of illnesses and diseases: addiction, serious mental illness, and cancer.
One of the company's main drugs is Vivitrol, a monthly intramuscular injection used to treat opioid and alcohol dependence. The cost of one month's injection is nearly $6,000 without insurance. There is no generic alternative and it is recommended patients use Vivitrol for approximately one year, equaling $72,000 for a full treatment course without insurance.
Sanofi
Another of Rep. Clark's largest pharmaceutical contributors is Sanofi, a French multinational pharmaceutical and healthcare company. Sanofi manufactures one of the most expensive drugs in the world, Lumizyme, which treats a genetic disorder called Pompe disease. While classified as a rare disease due to its scarce occurrence in the general population— 1 in 40,000 people in the U.S.—it is much more common among African Americans, impacting 1 in 14,000. Pompe disease can be fatal, but Lumizyme treatment without insurance costs over $630,000 a year.
Sanofi brought in $48 billion of revenue from Sept. 2021 to Sept. 2022.
Merck
Merck is one of the largest pharmaceutical companies in the world, bringing in nearly $59 billion in revenue from Sept. 2021 to Sept. 2022. The company gave Rep. Clark $11,000 across the last four election cycles and spent nearly $6 million on lobbying during the 2022 election.
Merck's massive revenue and lobbying budget is funded in part by a Covid-19 treatment that the company sells at 40 times the cost of manufacturing. Molnupiravir is used to treat adults with mild-to-moderate Covid-19 who are at high risk of developing severe Covid-19. According to a recent study published in The Lancet, molnupiravir "contributed to a relative reduction of hospitalization or death by 30%" among unvaccinated Covid-19 patients.
Merck spends roughly $17 to produce the Covid-19 drug, yet sells a 5-day course for at least $700 in the U.S. Their profit is further expanded by the lack of research and development costs; Molnupiravir was created by researchers at Emory University with an estimated $35 million in federal investment.
Pete Aguilar
Rep. Pete Aguilar has accepted far more donations from defense contractors than Reps. Jeffries and Clark in the last four election cycles. Nearly half of Aguilar's defense donations occurred during the 2022 election, placing him in the top 10 House members accepting defense contractor money going into the 118th Congress.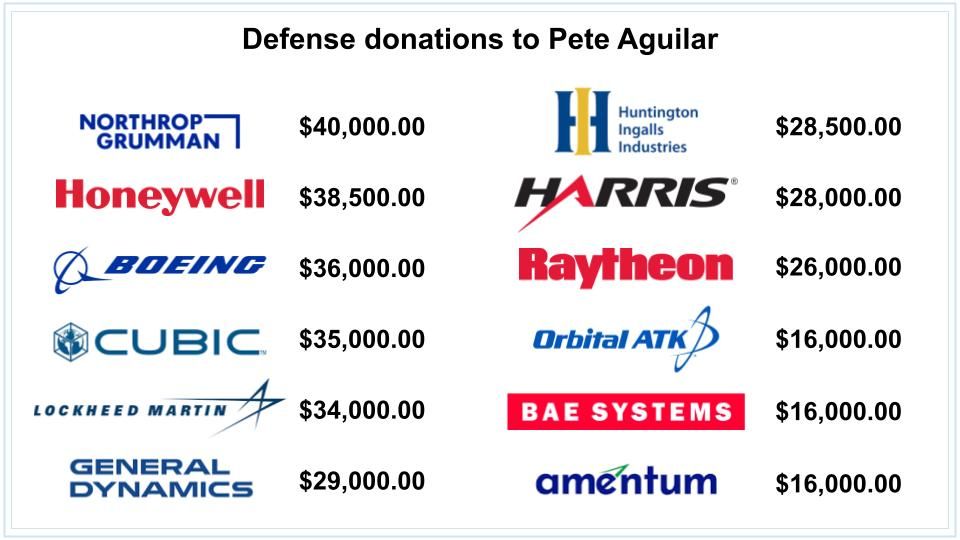 Northrop Grumman
Rep. Aguilar's top defense contractor contributor has been Northrop Grumman, an aerospace and defense company that brought in $35 billion for the 2021-2022 year. Most recently, in August 2022, the company was awarded a $3.3 billion contract to develop and field Ground-based Midcourse Defense Weapons Systems, designed to shoot down missiles heading for the United States.
Northrop Grumman was also awarded a $95 million contract from the Department of Homeland Security to build a next-generation biometric identity system expected to be deployed to track immigrants, travelers, and citizens entering America. "DHS compounds face recognition's threat to anonymity and free speech," the Electronic Frontier Foundation says, "by planning to include 'records related to the analysis of relationship patterns among individuals.'"
According to OpenSecrets, Northrop Grumman spent over $2.5 million in contributions and over $8.6 million on lobbying during the 2022 election cycle.
Honeywell
Rep. Aguilar's second highest defense contributor has been Honeywell, a Fortune 100 company that makes aerospace and building technologies. The company brought in nearly $35 billion in the 2021-2022 year and won several lucrative contracts, including over $9 million to install navigation systems in F/A-18 aircraft and $476 million to manufacture the engines for CH-47 Chinook helicopters.
Honeywell has come under criticism for its past production of cluster bombs, which still kill people in former war zones, and for its enduring environmental pollution.
Republican leadership
The House will vote for its next speaker on January 3, 2023. Rep. Kevin McCarthy (R-CA) is struggling to secure the support of 218 House Republicans to win the speakership, with a challenge from Rep. Andy Biggs (R-AZ) drawing some rightwing lawmakers away from the former minority leader. Forensic News will analyze the donors of the 2023-2024 House Republican leadership after the election.