World's Largest Cannabis Company Owes Millions to Entity Connected to Russian Oligarch Roman Abramovich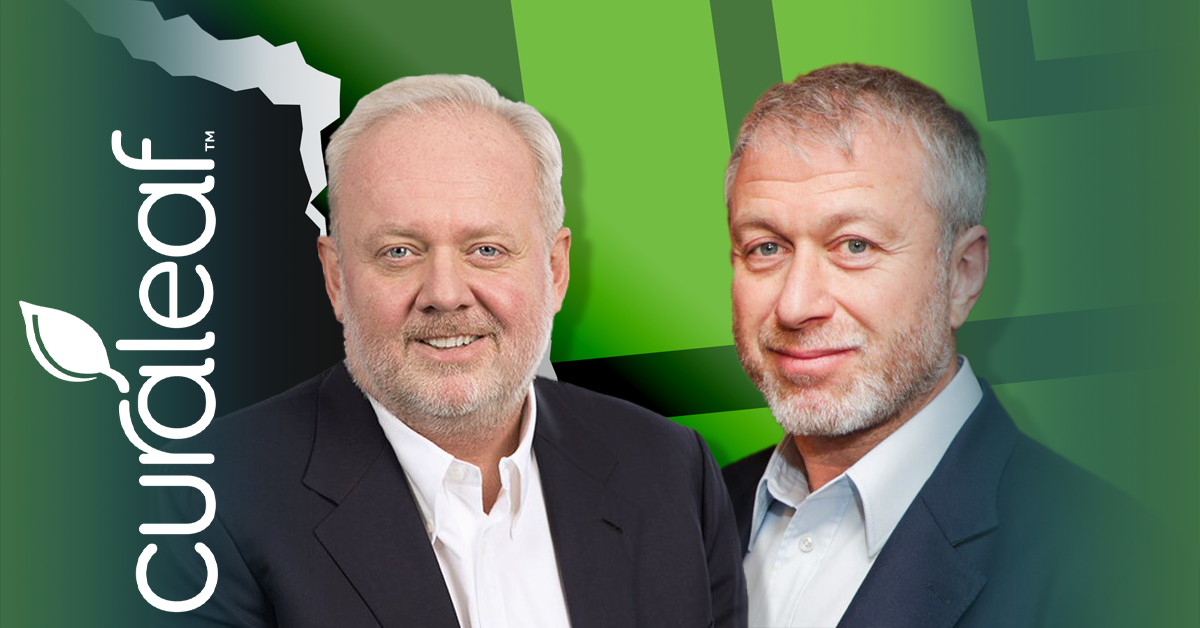 Russian oligarch Roman Abramovich's financial support of the world's largest cannabis company is much greater than previously known and the company still owes one of his offshore entities a substantial sum, according to leaked documents.
Forensic News exclusively reported this month that Abramovich had extended loans to Curaleaf's two top shareholders. Now, it can be revealed that Abramovich used a different offshore company to loan Curaleaf an additional $120 million in 2020 and a further $60 million just months before Russia's invasion of Ukraine.
In total, Abramovich appears to have loaned Curaleaf and its two largest shareholders at least $410 million over approximately four years.
The newly revealed documents contradict Curaleaf's assertions that Abramovich had exited the company and that Abramovich's loans only went to Curaleaf's predecessor company.
The financial papers are part of a trove of documents from a Cypriot accounting and secretarial firm made available to journalists and researchers by Distributed Denial of Secrets, a non-profit that hosts leaked and hacked data.
---
Forensic News believes in transparency in the journalism process. Go behind the scenes to see how this story was created with the Stone video bibliography:
---
Meliastove Investments Loaned Curaleaf $180 million in 2020 and 2021
Forensic News previously reported that Abramovich funded Curaleaf's two largest shareholders, Boris Jordan and Andrey Blokh, via a British Virgin Islands company called Cetus Investments. That entity also directly loaned Curaleaf $91 million in 2018.
But now it can be revealed that a second Abramovich entity called Meliastove Investments loaned Curaleaf an additional $180 million in 2020 and 2021, contradicting Curaleaf's and Jordan's public statements in recent days.
Abramovich's control of the obscure Cypriot company at the time of the loans is affirmed in multiple documents, including a Russian beneficial ownership form that listed him as a shareholder. Another document created by employees of the Cypriot secretarial firm acting on behalf of Abramovich's companies showed the complex ownership structure.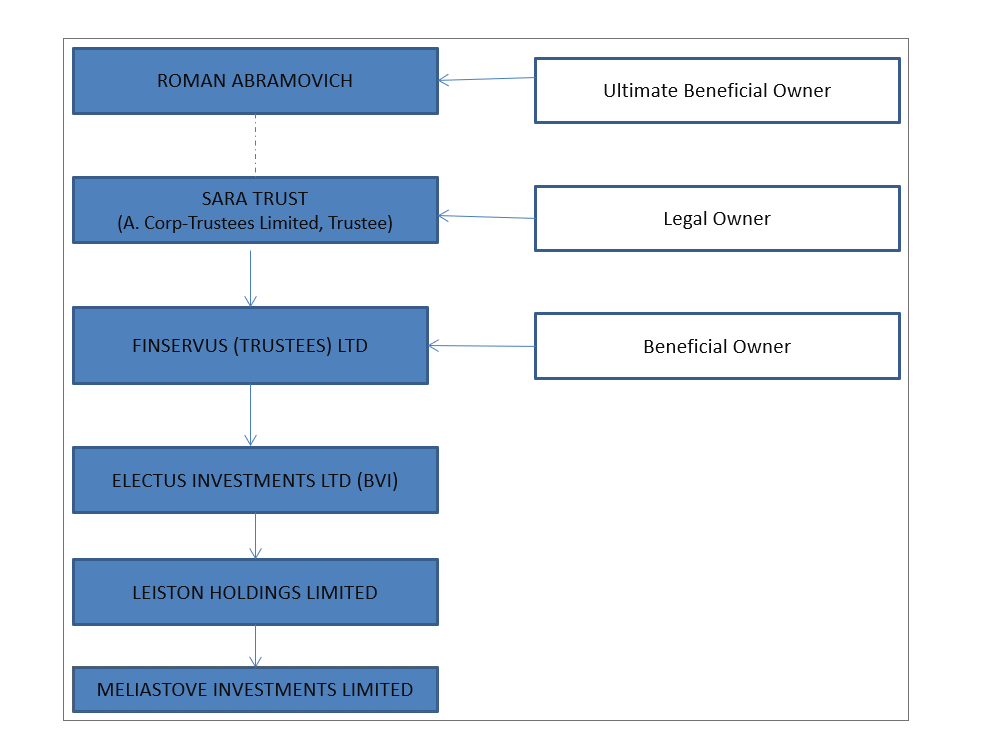 On January 10th, 2020, the employees ran a World-Check due diligence screening on Curaleaf Inc, the Delaware entity that received funding from Abramovich and other investors.
Days later, an amended financing agreement for Curaleaf added a schedule of investors, including Meliastove Investments and its $120 million commitment.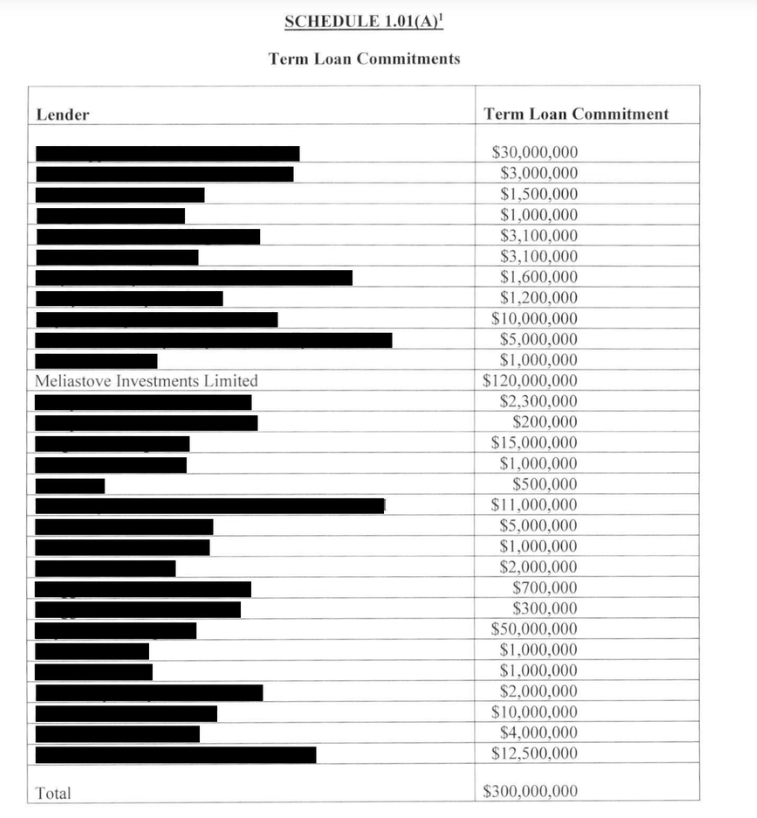 The loan by Abramovich's Meliastove Investments is also referenced in the company's financial statements for 2020:
"During the year the Company with the financial support of its shareholder granted a loan facility of US$120 000 000 to a third party. The loan was issued at a discount of 3%, bears interest at the rate of 13%...
In order to pay off the 2019/2020 loans and for additional working capital, Curaleaf turned to lenders in a private round of funding in December 2021, raising $475 million as debt at a lower interest rate. In return, lenders receive 8% interest annually and have priority in being repaid.
In this deal, weeks before Russia's invasion of Ukraine, Abramovich's Meliastove Investments injected $60 million into Curaleaf.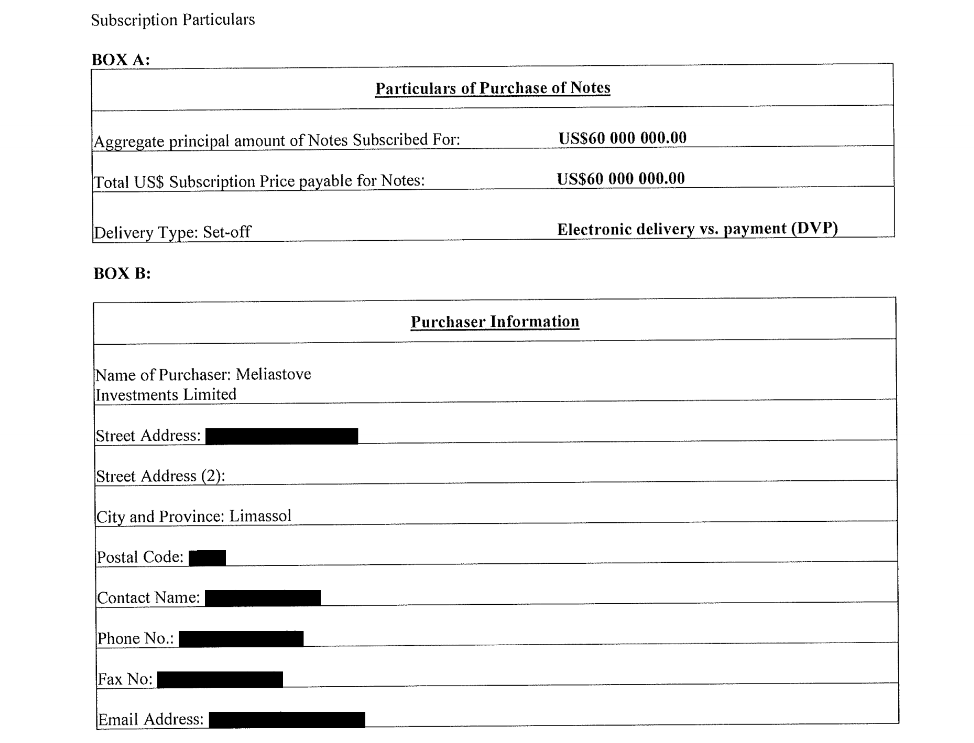 As of September 2022, according to Curaleaf's financial statements, approximately $433 million of the debt remains, confirming that the company remains in debt to the Abramovich-connected entity.
The terms of the late 2021 financing arrangement stipulate that Meliastove Investments, and other investors, receive 8% interest annually, paid twice a year.
In other words, Meliastove Investments is due to receive approximately $2.4 million every six months from Curaleaf until the maturity of the debt in December 2026 unless Curaleaf decides to buy it out earlier.
With the addition of the newly discovered Meliastove Investments loans, Curaleaf and its top shareholders Jordan and Blokh received at least $410 million in funding from the Russian oligarch from late 2016 through 2021.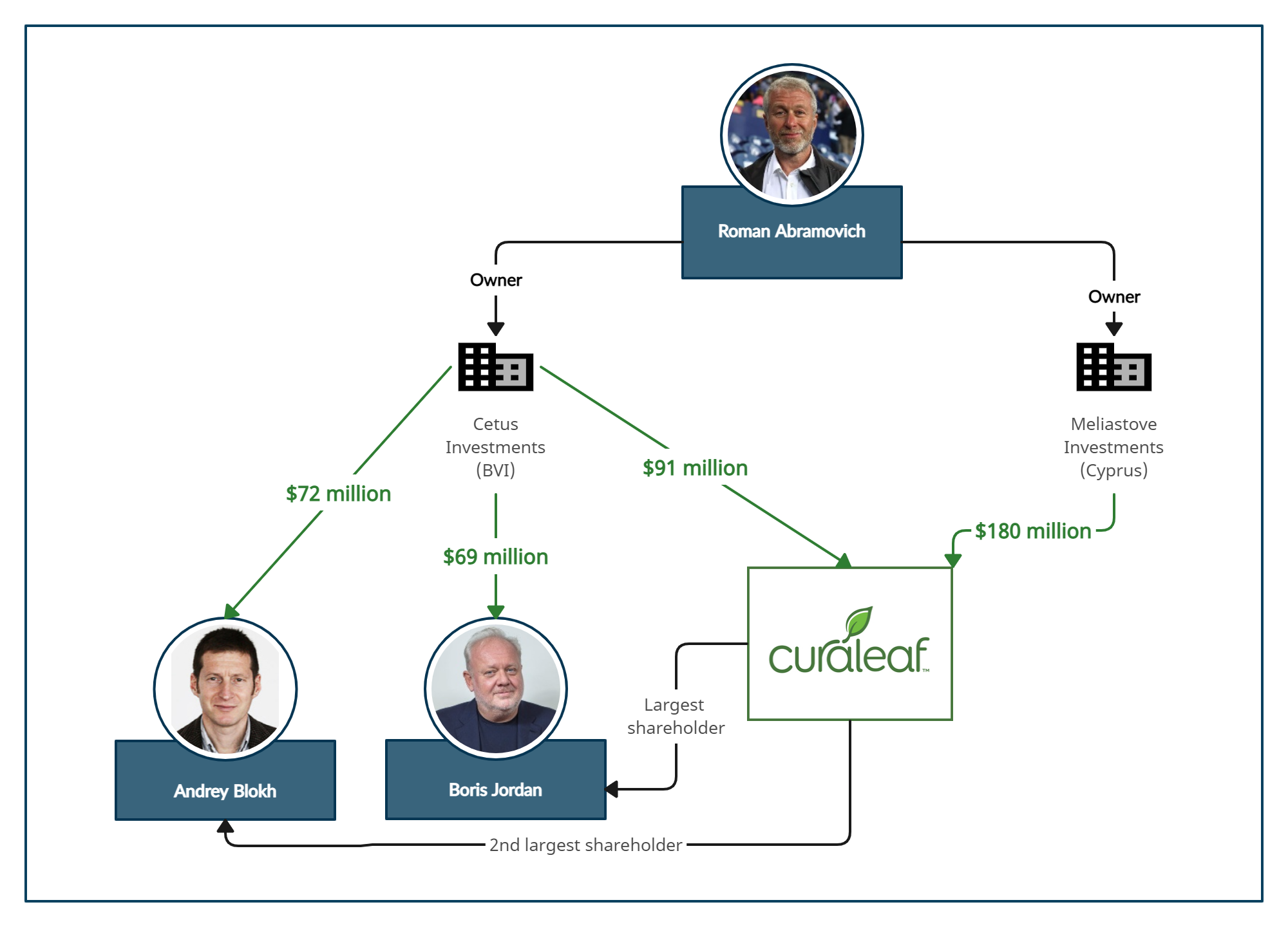 Public Statements Called Into Question
After the first Forensic News article on Abramovich's loans to Jordan and Blokh, Curaleaf issued a public statement focusing on the billionaire's financial support of PalliaTech, Curaleaf's predecessor company. The statement failed to mention Abramovich's other investment vehicle, Meliastove Investments, which loaned money directly to Curaleaf after the company went public on the Canadian stock market.
In comments to Bloomberg, Jordan, who is Curaleaf's Executive Chairman, insisted that Abramovich had exited the company and that his loans were repaid.
"All those funds have long ago been repaid, before the war, in late 2020 or late 2021," Jordan said.
Like the statement from Curaleaf, Jordan said Abramovich's funding went to PalliaTech, with no mention of the funds received in 2020 or 2021 by Curaleaf.
Contacted by Forensic News, Curaleaf issued the following statement:
We stand by our earlier statement which confirmed that that [sic] Mr. Abramovich is not a direct or indirect creditor of Curaleaf. In response to your further inquiry, Meliastove continues to hold $60 million participation in Curaleaf's $475 million financing facility closed in December 2021.  However, we've requested and received documentation confirming that Meliastove is no longer owned by Mr. Abramovich or any other person sanctioned in the US, UK or EU. These loans were legal, well-documented and not secret. Curaleaf has always complied with applicable disclosure and transparency with regard to our financial reporting. Note that these loans were originally sourced from an international investor who has not been sanctioned in the US. Please also note that Mr. Abramovich is an investor in many major global corporations and fund managers.
Curaleaf's claim that Meliastove Investments is no longer owned by Abramovich could not be verified. Documents from the Cypriot corporate registry show Leiston Holdings as the continuing owner, but it remains unclear if that company's ownership changed in 2022. None of the leaked documents for Meliastove Investments show a change in ownership.
The Hunt for Abramovich's Assets
Shortly after Putin launched his illegal war in Ukraine in 2022, the UK sanctioned Abramovich and froze billions in assets, including his prized Chelsea Football Club. The EU soon followed suit and since then, Western governments have been searching for assets tied to Abramovich
Since the UK crackdown, Jersey seized $7 billion of Abramovich's assets, France seized a dozen of Abramovich's properties, and Canada recently announced that it, too, would seek the seizure of Abramovich's assets in the country.
Notably absent is the U.S., which has not sanctioned Abramovich but did receive a warrant to obtain two of his airplanes for violating export laws. In an application for the warrant, an FBI special agent said that Abramovich owned the jets "through a series of shell companies" in Cyprus, the British Virgin Islands, and Jersey.
The FBI also noted that Abramovich transferred ownership of some of the entities to his children in February 2022.
The FBI and the SEC are investigating Abramovich, according to the New York Times. In August, the Times wrote that the investigations into an investment advisory firm connected to Abramovich are "focused at least in part on how associates of Mr. Abramovich used a series of offshore shell companies to invest up to $8 billion in dozens of U.S. hedge funds and private equity firms over the past two decades."
Kobre & Kim, the law firm representing Abramovich in the U.S., did not respond to a request for comment.
---
No paywalls. No ads. Help fund Forensic News.